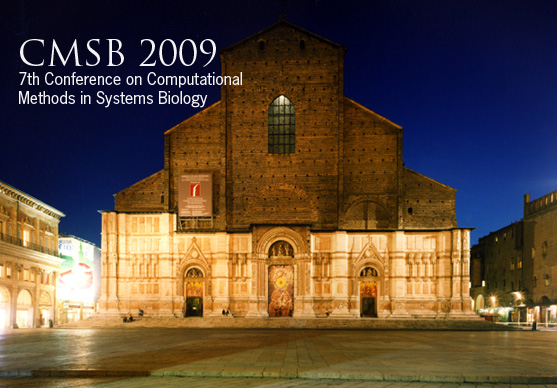 Bologna, Italy, August 31st - September 1st, 2009
The CMSB (Computational Methods in Systems Biology) conference series was established in 2003 to help catalyze the convergence of modellers, physicists, mathematicians, and theoretical computer scientists from fields such as language design, concurrency theory, program verification, and molecular biologists, physicians, neuroscientists interested in a systems-level understanding of cellular physiology and pathology.
CMSB'09 solicits original research articles, tutorials, PhD presentations, and posters. These may cover theoretical or applied contributions that are motivated by a biological question and can demonstrate either actual or potential usefulness towards answering this question. They may also cover models of computation inspired by biological processes. Particularly relevant case studies and open issues from the biological side that demands modelling of systems, model analysis, and simulation are of interest as well.
Invited speakers
Rita Casadio, Università di Bologna, Italy


John K. Heath, University of Birmingham, UK


Corrado Priami, The Microsoft Research - University of Trento Centre for Computational and Systems Biology (Italy)
The 2009 conference on Computational Methods in Systems Biology is a research event sponsored by Microsoft Research Cambridge and Alma Mater Studiorum - the University of Bologna.